World's Finest All-Natural Supplements
RESULTS OF THE LANDMARK STUDY
Three groups of people:
Those who took no supplements
Those who took a multi-vitamin/mineral supplement (Brand-X uses)
Those who took generous amounts of Shaklee for 20-42 years
| | | | |
| --- | --- | --- | --- |
| Condition | No Supplements | Single Supplement | Shaklee Members |
| C Reactive Protein | 4.6 | 3.2 | 1.9 |
Ø      C Reactive protein may be the most important value.  Measures inflammation in the body. Predictive of future cardiovascular disease risk, strongly linked with the risk of developing certain cancers, diabetes and Altzheimer's disease.
Condition
No Supplement
Single Supplement
Shaklee Members

Heart Disease

5.6
7.1
5.0%
Congestive Heart Failure
3.5
2.8
1.4%
Heart Attacks
4.4
7.6
2.5%
Ø      Heart disease is the number one cause of death in the U.S.  In all three conditions those who used Shaklee supplements had markedlybetter heart health.
| | | | |
| --- | --- | --- | --- |
| Condition | No Supplement | Single Supplement |  Shaklee Members |
| Type II Diabetes | 8.5 | 11.1 | 2.9% |
Ø      The study showed a 4-5 times higher incidence of diabetes in the non-user and multi-user group.  Diabetes is epidemic in the U.S. but those taking Shaklee had remarkably less incidence despite many of them being over weight.
| | | | |
| --- | --- | --- | --- |
| Daily Use | No Supplement | Single Supplement |  Shaklee Members |
| Number of medications | 6.4- 14 over the course of a year | 6.4- 14 over the course of a year | 0.6 |
Ø      Perhaps one of the most telling results. Think of the side effects- liver and kidney damage, brain fog, poverty vs. living medication free.
| | | | |
| --- | --- | --- | --- |
| Health Rating | No Supplement | Single Supplement | Shaklee Members |
| % that Felt Good about Their Health | 49.10 | 55.6% | 84.20% |
The Shaklee members were on average 10 years older than their counterparts.  They also retained normal levels of blood pressure, HDL cholesterol, triglycerides, and homocysteine.  These are markers of inflammation and are warning signals.  The other groups did not retain normal levels of these markers.
For a complete account of the research study go to www.nutritionj.com/content/6/1/30
The study title is "Usage patterns, health and nutritional status of long –term multiple dietary supplement users: a cross- sectional study."
The Study proved that taking generous amounts of high quality (Shaklee) supplements provides substantial health benefits over the long term.
Weight Is a Heart Issue
---
What is being overweight?
Overweight and obesity are both defined by Body Mass Index or BMI (which is a ratio of weight to height). A BMI between 25 and 30 places someone in an overweight category and 30 or higher is considered obese.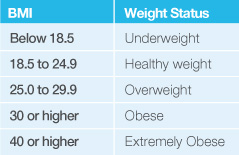 Why control your weight?
The classifications of overweight and obese are not simply labels; there is a dramatic increase in the likelihood of disease as people increase their BMI, such as:
Coronary artery disease (CAD)
Certain cancers
High blood pressure
High cholesterol and triglycerides
Osteoarthritis
Sleep apnea
Stroke
Type 2 diabetes
The cost of being overweight
Obesity itself is not what causes the harm; it is the diseases that are associated with obesity that cause the harm. The costs of these diseases and syndromes are enormous, and that doesn't even begin to calculate the personal, physical, and emotional problems associated with increased BMI.
Obese people are expected to live 2-4 years less than someone with a healthy weight; the extremely obese (BMI over 40) have 8-10 years taken off their life expectancy. i
More than one-third of adults in the U.S. are considered overweight and another one-third are obese.
The medical costs associated with obesity are estimated at over $150 billion dollars.
Obese people cost an average of $1,429 more in medical services per year than someone who is normal weight.
What can I do to control my weight?
There is much you can do to control your weight. First of all, there are no easy answers. Reducing and maintaining a healthy weight is one of the best tools we have to forestall or avoid many diseases.
| | |
| --- | --- |
| 1. | Lifestyle: Get support, exercise, track your progress, and eat a low-fat and low-calorie diet. |
| | |
| 2. | Boost Your Metabolism: Maintaining or increasing your lean body mass (muscles) is your best bet for keeping your metabolism going strong. There are a variety of supplements that can help with your metabolism as well. |
| | |
| 3. | Leucine: The amino acid leucine is great at helping maintain muscle mass, especially in people who are cutting calories and exercising. ii |
| | |
| 4. | Protein: Not only does protein help you feel full longer, it also helps you keep your lean body mass. Starting the morning with a good protein or protein shake helps you feel full longer. iii |
| | |
| 5. | Fiber: The benefits of fiber on weight loss are many. Studies have shown that fiber can help you feel full, support blood sugar, and it helps remove cholesterol from the body as part of a healthy diet.iv |
| | |
| | |
| --- | --- |
| i | Whitlock G, Lewington S, Sherliker P, et al. Body-mass index and cause-specific mortality in 900 000 adults: collaborative analyses of 57 prospective studies. Lancet. 2009 Mar 28;373(9669):1083-96 PMID: 19299006. |
| ii | Wayne Westcott, Jose Varghese, Nicholas DiNubile, et al. Exercise and Nutrition More Effective than Exercise Alone for Increasing Lean Weight and Reducing Resting Blood Pressure. Journal of Exercise Physiologyonline. 2011 Aug; 14(4): 120-133. |
| iii | Leidy HJ, Bossingham MJ, Mattes RD, Campbell WW. Increased dietary protein consumed at breakfast leads to an initial and sustained feeling of fullness during energy restriction compared to other meal times. Br J Nutr. 2009 Mar;101(6):798-803. PMID: 19283886. |
| iv | Pal S, Khossousi A, Binns C, Dhaliwal S, Ellis V. The effect of a fibre supplement compared to a healthy diet on body composition, lipids, glucose, insulin and other metabolic syndrome risk factors in overweight and obese individuals. Br J Nutr. 2011 Jan;105(1):90-100. PMID: 20727237. |